Dan Kahan
Posted on
Tuesday, December 8, 2015 at 10:56AM
Sorry for lack of context here, but my guess is that it will become clear enough after a few sentences.
Dear Joe:
I apologize for disparaging your work at the Society for Risk Analysis session yesterday. You perceived my remarks that way, and on reflection I can see why you did, & why others likely formed the same impression. I truly regret that.
In fact, it wasn't your work that I meant to be criticizing.
My intention was to respond to the argument you presented (with the admirable degree of clarity I wish I had been able to summon in response) in favor of "practical scholarship." Because you see, I don't think the sort of work you defended is either practical or scholarly.
You proposed to those in the room that the empirical study of climate science communication should be evaluated in light of its contribution to a "goal" of promoting a "world war II scale mobilization" of public opinion (I encourage you to post your slides; they were very well done).
Research aimed at identifying the significance of values & science comprehension for public conflict on climate change (the subject of the panel we were both on; great new research unveiled by the Shi, Visschers, Siegrist team!) doesn't meet this criterion, you made clear. Indeed, it detracts from it, because, in your opinion, it implies change will take a "long time" (I disagree it implies any such thing but that's another matter).
As an example of research that is "practical," you offered your own, which you characterized as aimed at convincing democratic representatives that their prospects for re-election depend on honoring the sorts of "public preferences" revealed by the structured preference-elicitation methods you described.
You also stated that your work, along with that of others, is intended to "create cover" for officials to take positions supportive of climate change policies (a common refrain among researchers who generate endless streams of public opinion polls purporting to find that there is fact widespread public consensus for one or another climate change mitigation initiative).
We should all pitch in to help acehieve this result, you exhorted.
Again, to be clear, my point is that this vision of empirical work on science communication is neither "scholarly" nor "practical."
Scholarship—of the empirical variety, in any event—tries to help people figure out what's true, particularly under conditions in which there are multiple plausible understandings of phenomena of consequence. That's what the scholarship on the relationship between "values" and "science literacy" that you disparaged is about. The occasion for that scholarly inquiry is a practical one: to figure out what sorts of dynamics are blocking public engagement with the best available evidence on climate change.
What's definitely not practical (as Theda Skocpol has noted) is to think that public opinion researchers can be mobilized into a project to "show" elected officials what the public "really" wants.
Elected officials are in the profession of satisfying the expectations of their constituents. They invest plenty of money, most of the time wisely, to figure out how to do that.
They know that surveys purporting to show that a "majority" of Republicans support "the EPA's greenhouse gas emission standards" are measuring non-opinion. They know too that the sort of preference-elicitation methods you demonstrated—however truly valuable they might be for learning about cognition—are not modeling the decisionmaking dynamics that determine election outcomes.
Most importantly, they know—because those who agree with your conception of "practical scholarship" are constantly proclaiming this-- that your goal is to create an impression in these actors for your own purposes: to help "shove" them into supporting a particular set of policies (enough with these "nudges" already, you inspiringly proclaimed: we are facing the moral equivalent of Hitler invading Europe!), not help them get re-elected.
They know, in short, that "non-opinion" survey methods are actually intended to message them! And I would have sort of thought this was obvious, but it's not a very good "messaging strategy" to incessantly go on & on within earshot of Republicans about "strategies" for "overcoming" the "Republicans' cognitive resistance to climate mitigation."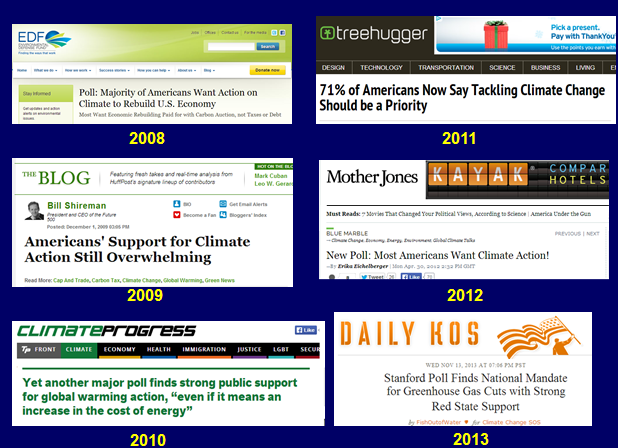 The targeted politicians (Democrat and Republican) therefore sensibly discount (ignore really) everything produced by researchers who are following this "message the politicians" strategy. They listen instead to the professionals, who tell them something very different from what these "practical scholars" are saying (over & over & over; "keep repeating—that it hasn't worked yet is proof that we just need to do it for longer!,"--another refrain inside this bubble) . Politicians who take what these researchers say at face value, they've observed, get knocked out of office.
I believe there is plenty that science communication researchers can do to help actual people, including elected officials, promote science-informed decisionmaking relating to climate change by collaborating with them to adapt and test lab insights to their real-world problems.
The form of research that I think is best for that aims to help those decisionmakers change the meaning of climate change in their communities, so that discussions of it no longer are perceived as being about "whose side are you on" but
instead about "what do we know, what more do we need to know, and what should we do."
That research doesn't try to conjure a new world into existence by disseminatng "studies" that constantly purport to find it already exists.
It tries to supply people who actually are acting to make such a world with empirical information that they can use to exercise their judgment as best as they can.
Indeed, what motivated my rebuke of you yesterday was frustration at how closely aligned the program you defended (very clearly, very articulately) is with divisive forms of partisan advocacy that actually perpetuate the social meanings that make climate change a "struggle for the soul of America" rather than a practical problem that all Americans, regardless of the cultural identities, have a common interest in fighting.
Frustration too at how much the sort of "practical" "scholarship" you called for is distracting and diverting and confusing people who are looking to empirical researchers for help.
At how self-defeating it obviously is ever to propose that a criterion other than "figuring out & sharing one's best understanding of the truth on contested empirical issues" could possibly be practical.
How twisted it is to call that singularly unscientific orientation "science communication" research!
It's pretty simple really: Tell people what they need to know, not what they want to hear.
That's both ethical and practical.
Again, sorry I disparaged your scholarly work, which I think can teach people a lot about how people think.
The intended target was your conception of "practical scholarship." And I did very much intend to be critical of that view and of those who are propogating the mindset you very much evinced in your talk.
Yours,
Dan
p.s. My slides from talk on the challenge of "unconfounding" knowledge & identity in measuring "climate change science comprehension."