Dan Kahan
Posted on
Friday, April 22, 2016 at 1:51AM
You saw this coming I bet.
I would have presented this info in "yesterday's" post but I'm mindful of the groundswell of anxiety over the number of anti-BS inoculations that are being packed into a single data-based booster shot, so I thought I'd space these ones out.
"Yesterday," of course, I introduced the new CCP/Annenberg Public Policy Center "Scaredy-cat risk disposition"™ measure. I used it to help remind people that the constant din about "public conflict" over GM food risks--and in particular that GM food risks are politically polarizing-- is in fact just bull shit.
The usual course of treatment to immunize people against such bull shit is just to show that it's bull shit. That goes something like this:
The "Scraredy-cat risk disposition"™ scale tries to stimulate people's bull shit immune systems by a different strategy.
Rather than showing that there isn't a correlation between GM food risks and any cultural disposition of consequence (political orientation is just one way to get at the group-based affinities that inform people's identities; religiosity, cultural worldviews, etc., are others—they all show the same thing w/r/t GM food risk perceptions), the "Scraredy-cat risk disposition"™ scale shows that there is a correlation between it and how afraid people (i.e, the 75%-plus part of the population that has no idea what they are being asked about when someone says, "are GM foods safe to eat, in your opinion?") say they are of GM foods and how afraid they are of all sorts of random ass things (sorry for technical jargon) including,
Mass shootings in public places


Armed carjacking (theft of occupied vehicle by person brandishing weapon)


Accidents occurring in the workplace


Flying on a commercial airliner


Elevator crashes in high-rise buildings


drowning of children in swimming pools
A scale comprising these ISRPM items actually coheres!
But what a high score on it measures, in my view, is a not a real-world disposition but a survey-artifact one that reflects a tendency (not a particularly strong one but one that really is there) to say "ooooo, I'm really afraid of that" in relation to anything a researcher asks about.
The "Scraredy-cat risk disposition"™ scale "explains" GM food risk perceptions the same way, then, that it explains everything,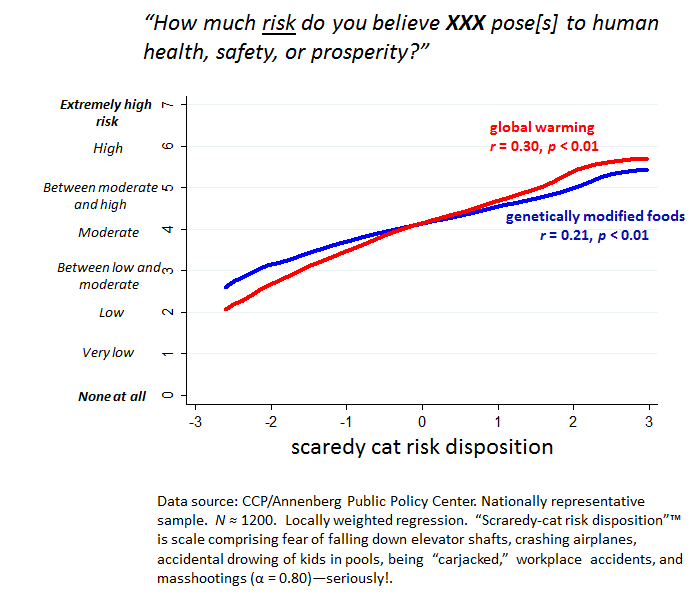 which is to say that it doesn't explain anything real at all.
So here's a nice Bull Shit test.
If variation in public risk perceptions are explained just as well or better by scores on the "Scraredy-cat risk disposition"™ scale than by identity-defining outlooks & other real-world characteristics known to be meaningfully related to variance in public perceptions of risk, then we should doubt that there really is any meaningful real-world variance to explain.
Whatever variance is being picked up by these legitimate measures is no more meaningful than the variance picked up by a randm-ass noise detector.
Necessarily, then whatever shred of variance they pick up, even if "statistically significant" (something that is in fact of no inferential consequence!) cannot bear the weight of sweeping claims about who— "dogmatic right wing authoritarians," "spoiled limousine liberals," "whole foodies," "the right," "people who are easily disgusted" (stay tuned. . .), "space aliens posing as humans"—etc. that commentators trot out to explain a conflict that exists only in "commentary" and not "real world" space.
Well, guess what? The "Scraredy-cat risk disposition"™ scale "explains" childhood vaccine risk perceptions as well as or better than the various dispositions people say "explain" "public conflict" over that risk too.
Indeed, it "explains" vaccine-risk perceptions as well (which is to say very modestly) as it explains global warming risk percepitons and GM food risk perceptions--and any other goddam thing you throw at it.
See how this bull-shit immunity booster shot works?
The next time some know it all says, "The rising tide of anti-vax sentiment is being driven by ... [fill in bull shit blank]," you say, "well actually, the people responsible for this epidemic of mass hysteria are the ones who are worried about falling down elevator shafts, being the victim of a carjacking [how 1980s!], getting flattened by the detached horizontal stabilizer of a crashing commercial airliner, being mowed down in a mass shooting, getting their tie caught in the office shredder, etc-- you know those guys! Data prove it!"
It's both true & absurd. Because the claim that there is meaningful public division over vaccine risks is truly absurd: people who are concerned about vaccines are outliers in every single meaningful cutlural group in the U.S.
Click to see "falling" US vaccination rates...Remember, we have had 90%-plus vaccinate rates on all childhood immunizations for well over a decade.
Publication of the stupid Wakefield article had a measurable impact on vaccine behavior in the UK and maybe elsewhere (hard to say, b/c on the continent in Europe vaccine rates have not been as high historically anyway), but not the US! That's great news!
In addition, valid opinion studies find that the vast majority of Americans of all cultural outllooks (religious, political, cultural, professional-sports team allegiance, you name it) think childhood vaccines are the greatest invention since . . . sliced GM bread! (Actually, wheat farmers, as I understand it, don't use GMOs b/c if they did they couldn't export grain to Europe, where there is genuine public conflict over GM foods).
Yes, we do have pockets of vaccine-hesitancy and yes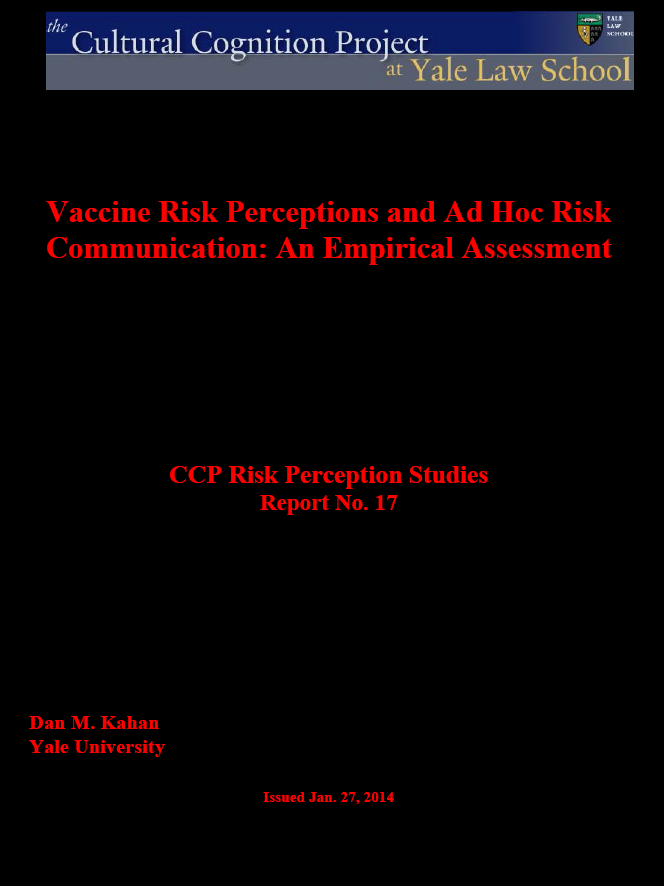 they are a public health problem.
But general-population surveys and experiments are useless for that—and indeed a wast of money and attention. They aren't examining the right people (parents of kids in the age range for universal vaccination). And they aren't using measures that genuine predict the behavior of interest.
We should be developing (and supporting researchers doing the developing of) behaviorally validated methods for screening potentially vaccine hesitant parents and coming up with risk-counseling profiles speciifically fitted to them.
And for sure we should be denouncing bull shit claims—ones typically tinged with group recrimination—about who is causing the "public health crisis" associated with "falling vaccine rates" & the imminent "collapse of herd immunity," conditions that simply don't exist.
Those claims are harmful because they inject "pollution" into the science communication environment including confusion about what other "ordinary people like me" think, and also potential associations between positions that genuinely divide people—like belief in evolution and positions on climate change—and views on vaccines. If those take hold, then yes, we really will have a fucking crisis on our hands.
If you are emitting this sort of pollution, please just stop already!
And the rest of you, line up for a "Scraredy-cat risk disposition"™ scale booster shot against this bull shit.
It won't hurt, I promise! And it will not only protect you from being misinformed but will benefit all the rest of us too by helping to make our political discourse less hospitable to thoughtless, reckless claims that can in fact disrupt the normal processes by which free, reasoning citizens of diverse cultural outlooks converge on the best available evidence.
On the way out, you can pick up one of these fashionable "I've been immunized by the 'Scraredy-cat risk disposition'™ scale against evidence-free bullshit risk perception just-so stories" buttons and wear it with pride!